OHE hires new directors to accelerate focus on new audiences and global impact
Published on:
13 Oct 2022
Tim Watson joins as Director of Marketing & Communications Charlotte Ashton joins as Director of External Affairs
The Office of Health Economics (OHE), a UK-based not-for-profit research group, has appointed two new directors to help increase the impact of its high-quality research and reach new audiences, both in the UK and internationally.
Tim Watson joins OHE as Director of Marketing and Communications from his role as Partner, Healthcare and Life Sciences at Instinctif Partners. Tim brings a wealth of experience from working with over 70 life sciences companies and organisations globally during his 12 years at the firm. He will build out a new marketing and communication function to increase the awareness and impact of OHE's research and insight globally.
Charlotte Ashton joins OHE as Director of External Affairs from her role as Head of External Engagement at the Tropical Health and Education Trust. Charlotte has worked directly with senior stakeholders including the WHO, Bill & Melinda Gates Foundation and the UK government. Her focus is OHE's strategic priorities including the launch of a global research fund, a global policy forum, as well as stakeholder and community engagement work.
Commenting on the appointments, OHE's Chief Executive, Professor Graham Cookson, said:
"We are passionate about maximising the value health economics can bring to all aspects of society, from policy-making to patient choice.
We have grown in size, reach and influence over the last few years, conducting research for a broader range of global stakeholders than ever. Bringing in Tim and Charlotte's extensive expertise is a statement of intent. As we celebrate our 60th anniversary, we want to ensure we engage effectively with all our audiences and build stronger relationships in key areas of our work."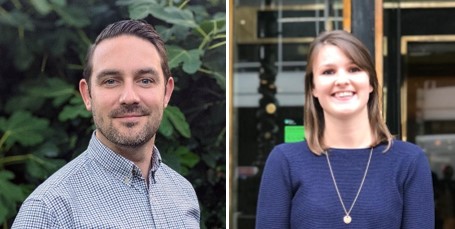 Tim Watson, Director of Marketing and Communications, added:
"The pandemic has put healthcare in the spotlight like never before. It is essential that policymakers and the public are armed with a robust evidence base and are challenged by innovative potential solutions. I want to shine a light on the excellent researchers here at OHE and ensure their insightful work reaches the right people for a meaningful impact."
Charlotte Ashton, Director of External Affairs, added:
"I am delighted to join OHE at this critical moment and to grow our global partnerships as we launch vital new initiatives. OHE's offering is unique and brings immense global value, working to improve health through pioneering and innovative research, analysis, and education. I look forward to working with this hugely impactful team, and most importantly, ensuring that the value of health economics in bringing about the best possible healthcare solutions is realised."
-->