MedTate appoints lawyer Rishi Solan to the Board of Directors
Published on:
14 Jan 2020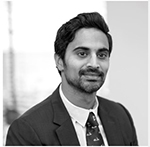 London-based nutraceutical firm MedTate is delighted to announce the appointment of lawyer Rishi Solan to the Board of Directors.

Solan brings with him a wealth of corporate and commercial expertise, particularly in the healthcare, pharmaceutical and life sciences sectors. He is an experienced corporate finance lawyer by profession, advising both private and publicly listed companies, as well as start-ups and entrepreneurs, on a broad range of corporate, commercial and regulatory matters. At present he practises in the London office of international law firm DAC Beachcroft, one of the UK's leading firms specialising in healthcare and life sciences.

MedTate delivers all-natural and clinically validated breakthrough supplements that support healthy lifestyles and promote wellness. The Company was founded in 2011 by its CEO Pete Tate, who was inspired by his grandfather's natural remedies which were derived from Indian Ayurvedic medicine. Tate took this inspiration to create modern organic supplements which have been scientifically and clinically proven to have exceptional benefits.

MedTate CEO Pete Tate commented,
"Rishi is an outstanding lawyer with real commercial nous and a comprehensive understanding of our industry. I am confident that his contributions will be very meaningful to the continued success of MedTate."

For more information, please visit the MedTate website: http://medtate.co.uk.

For press enquiries please contact Damson PR: Abigail Stuart-Menteth at abigail@damsonpr.com or 0203 981 5200.

About Rishi Solan
Solan holds a Bachelor of Arts degree from Boston University (USA), Master of Laws degree from the University of Warwick (England) and is an English qualified lawyer.
Related links
-->