TalentSource Life Sciences, Experts Providing Experts
Published on:
19 Jun 2020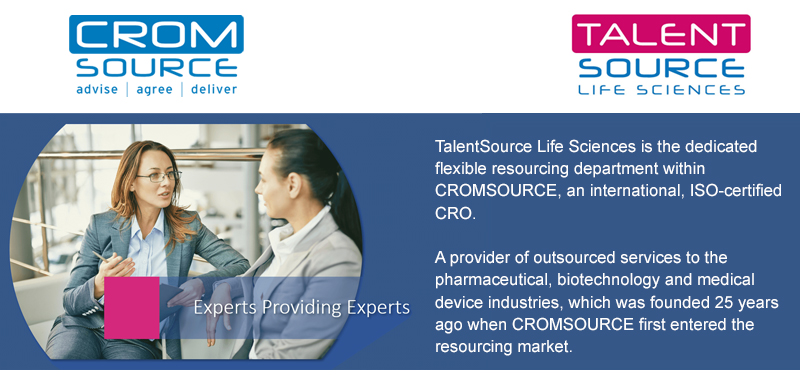 CROMSOURCE knows that building up a quality, efficient service is only possible by attracting and retaining experienced professionals. CROMSOURCE also understands the importance of a good work-life balance and offers flexible solutions for most positions. TalentSource Life Sciences is the dedicated department providing insourcing, FSP and flexible solutions, providing contract resourcing for 25 years.

Through TalentSource, we are currently focussing on providing our clients with experts in site engagement. There are a number of specialised roles that focus on engaging sites participating in clinical trials outside of the traditional CRA role. These range from staff who are focused on education of Investigators and site staff on clinical trials, through to looking at ways to accelerate enrolment of patients through awareness and referral processes. We want to hear from you if you have these skills.

Reasons to work for us:
Global headquarters in Verona, Italy - a leading CRO in Europe/US - a solid infrastructure and subsidiaries in Belgium, Germany, The Netherlands, Poland, Russia, Spain, Switzerland, UK and the US.
Flexible staffing/FSP - TalentSource offers variety of direct-to-client working
Investment in Employees - training and personnel development planning, offering employees opportunities to build versatile expertise
Work in a friendly, family environment where your ideas are valued. CROMSOURCE people are guided to develop a proactive and responsible attitude, our company's distinctive mark.
Wide range of clients within big pharma and medical devices
Contact us today to see what career opportunities we see coming in addition to current open roles.
-->